Book in Advance for Your 30A Vacation!
29 Nov 2022
2023 is right around the corner! If you haven't already, be sure to start thinking about your spring break and summer plans as early as possible as homes on 30A are booking quickly. Don't miss out on staying in your favorite home-away-from-home.
As you begin your search for your perfect 2023 vacation home, be sure to keep our most searched amenities in mind:
30A Gulf Front Homes
Wake up to the sound of waves crashing on the white sands of the Emerald Coast with a Gulf front vacation home. Enjoy time on the beach just steps away from your 30A home-away-from-home and make the most of the sun, sand, and surf. As a highly desirable amenity, book early to secure your Gulf front vacation home for your next visit to 30A!
Browse All Gulf Front Vacation Homes
Homes with Private Pools
Seeking privacy and relaxation during your beach vacation? Enjoy the luxury of a private pool during your stay in a 30A vacation home! Our homes with private pools invite guests to enjoy leisure and family fun without leaving the comfort of their 30A vacation rental. Cool off from the Florida sun with a dip in the pool or lounge with your newest beach read in your backyard oasis. A private pool will elevate any stay along 30A — so don't wait to plan your 2023 30A beach vacation!
Browse 30A Homes with Private Pools
Golf Carts
Golf carts offer a perfect way to explore 30A and find new hidden gems along the way! Any distance from the beach is shortened with the help of a golf cart. Load up your beach towels, umbrellas, games, and coolers and groove on down to the beach. Make beach days a breeze by booking early and securing a 30A vacation home that features a golf cart!
Elevator Access
Elevators make navigating your 30A vacation home easy and accessible for all the guests in your party. Load the elevator with your suitcases or groceries for a more convenient access. Guests with mobility difficulties will be pleased to know that an elevator is available to assist them in navigating their 30A vacation home. If an elevator is a top priority for your 30A vacation, be sure to book in advance to secure your ideal 30A home.
Browse Properties with Elevators
30A Pet-Friendly Vacation Rentals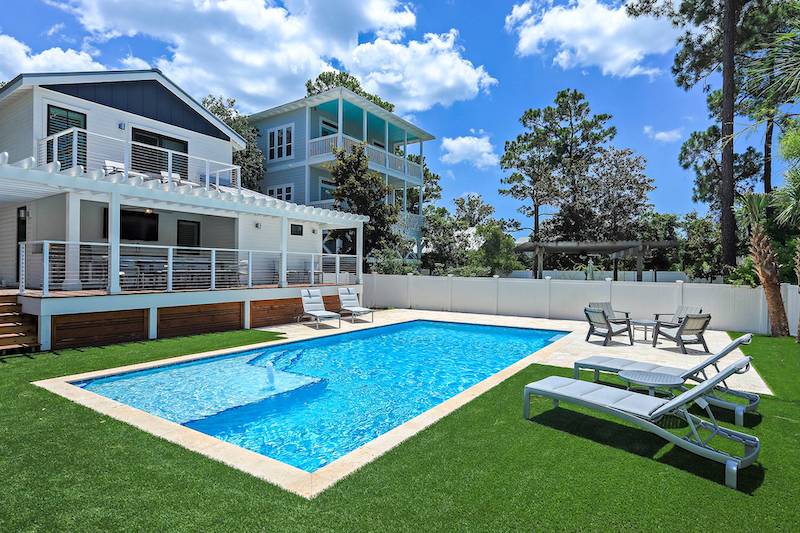 Don't leave your furry friends at home! Reserve a pet-friendly 30A vacation rental to experience the Emerald Coast with your four-legged friend by your side. 30A is home to a variety of dog-friendly restaurants for dining al fresco as well as pup-specific boutiques and activities. Make the most of your vacation by including the entire family and stay in a pet-friendly vacation home!
Browse All Pet-Friendly 30A Rentals
Find the Perfect 30A Vacation Rental
Start planning your 2023 visit to 30A today! Whether you desire a specific amenity like a private pool, golf cart, or Gulf front location or seek to stay in a specific 30A community, booking in advance ensures you reserve the best possible home-away-from-home for your beach vacation. Book direct with Royal Destinations to receive the best rate possible for your stay and avoid any additional charges from other Online Travel Agencies. Don't wait... book today!