What You Need to Know About the Santa Rosa Beach Dog Rules
3 May 2021
Are you looking to take a trip with your furry friend? Many dog owners take their pal along with them everywhere, including on vacation. Santa Rosa Beach is the ideal destination, but is 30A pet friendly? If you want to soak up some sun with your dog in 30A, you're in luck! There are plenty of local, dog-friendly businesses and parks for you both to enjoy. After you review these Santa Rosa Beach dog rules, start exploring the possibilities! 
Your Essential Guide to the Santa Rosa Beach Dog Rules
Is 30A Pet Friendly?
Yes! 30A encompasses several pet-friendly communities and activities. Feel free to enjoy some of these activities and attractions together:
Parks
30A and Santa Rosa Beach feature pet-friendly communities and activities. If you want to get out and stretch your legs while enjoying our beautiful coastal environment, head over to the Alaqua Unleashed Dog Park! You are free to let your dog off the leash and let them run around in this wide-open park. There are also separate areas for smaller dogs to play! Keep an eye out for information on fundraising and adoption efforts for the Alaqua Animal Refuge while you're here. Leashed pets are allowed at Point Washington State Forest and Topsail Hill Preserve State Park if you're up for a scenic hike. Once you work up an appetite in the parks, you are sure to find some great restaurants throughout the area with dog-friendly outdoor seating.
Dog-Friendly Restaurants
After a full day at the dog park and exploring hiking trails, you both likely worked up an appetite. Luckily, there are some great eateries nearby! Try the Shrimp Shack for an excellent dog-friendly restaurant in Seaside, FL. You can sit on the back deck and enjoy remarkable views of the shoreline.
Pet Stores, Groomers, Vets, and More!
You and your dog are always welcome to enjoy our local community's pet services and amenities. Feel free to grab supplies from Furry Fanatics or get your dog feeling fresh and looking great at Shabby to Chic Dog Grooming. There are also excellent veterinarians and pet hospitals in Santa Rosa Beach, should you ever need them.
Can I Bring My Dog to the Beach?
While you can still enjoy the various hiking trails, dog parks, and pet-friendly restaurants, 30A's beaches aren't always dog friendly. Currently, you're allowed to bring dogs to Santa Rosa Beach as long as you obtain a permit. Without one, you could face a fine of up to $500.
The permit application requires an annual fee of $40 and proof of local residency or property ownership. You must also provide evidence that your pup received their vaccination for rabies. To streamline the process, you can now fill out a digital application and upload the necessary documents.
Once you receive your permit, you can bring your dog to the beach at certain off-peak hours. The dog-friendly hours for beaches in Walton County, FL, are 4 p.m. to 8 a.m. in spring and summer and 3 p.m. to 9 a.m. for the rest of the year. Just make sure you keep your pet on a leash and clean up after them, and you'll have a great time together! Don't worry if you can't get a permit or don't want to go through the application process! You can still explore the communities together and enjoy the various dog parks, restaurants, and hiking trails.
Where's the Best Pet-Friendly Place to Stay in 30A?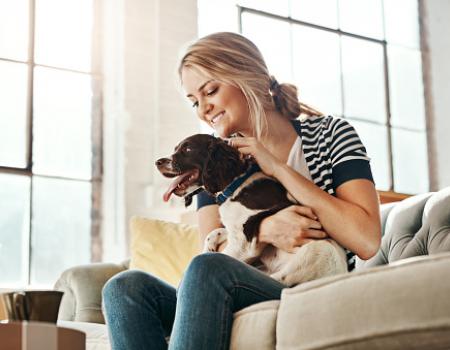 Take your pet on vacation to the beautiful Emerald Coast this year! As opposed to most rental companies, Royal Destinations has numerous pet-friendly properties available! You don't even have to sacrifice luxury to find the perfect accommodations! We have elegant options throughout many unique communities in South Walton. Feel free to explore our luxurious rentals. Just browse our pet-friendly options and take the next step toward a memorable trip. Your 30A vacation awaits; book your stay now!